Dear U Hill friends,

This morning, I'm thinking about Simon the Tanner. "Why," you may ask, "are you thinking about Simon the Tanner?" Or, alternatively, "Who on earth is Simon the Tanner?" If the second question is yours, you are likely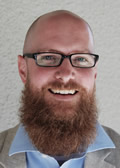 not alone. Simon appears only once in Scripture, in Acts 10. We know precious little about him, except that apparently his home had a nice view. As far as we know, he never performed any miracles, there's no record of any great preaching or evangelistic efforts attached to his name. In fact, all we can say for certain—besides the fact that he probably made leather—is that he put Peter up for a while. Peter stayed at the house of Simon the Tanner, when he was in Joppa.

So, why are my thoughts occupied with Simon? It's an answer to prayer, really. In my devotional time this morning, I was quite overwhelmed by the brokenness of the world. I don't tend to dwell on the negative, but this morning every news story I came across wore me down. The injustices and violence and hatred and general strife and anxiety that seem to have a grip on every corner of the world had me feeling very small and insignificant. What are we to do in the face of systemic racism, or rampant poverty, or environmental degradation? These things feel insurmountable.

And so, I was praying about these things and getting quite agitated, until I suddenly thought of Simon the Tanner. I'm not sure why him—it could likely have been any number of the peripheral saints who dot the story of Scripture. But it was immediately clear to me that Simon was a bit of God's grace breaking in. Simon is a reminder that the kingdom of God is not always (or even often) brought to life in great feats of heroism, but in the daily acts of folks—most of whose names we don't and won't ever know—who have chosen to live in and for the way of Jesus. All Simon did was make his place available for someone to stay. He shared his space. And it's hard to overstate the affect that had on the Church. (It's a story worth reading! Acts 10:1-48.) Simon is an example, I think, of Mother Theresa's claim that we can do no great things, only small things with great love.

My point is not to let us off the hook. God may well be calling us, as individuals or as a community, to something rather more extravagant than simple acts of hospitality. I believe that God is able to do more in us and through us than we can ask or imagine (Ephesians 3:20), and I'm not prepared to put limits—big or small—on how that's done. We need to be attentive to God and obedient to the Spirit's guidance. We need to be ready when called upon. And we need to allow Jesus to shape our day-in, day-out lives, and allow him to use our gifts, whatever they happen to be, as he sees fit—remembering that he seemed to have a thing for the small, the unlikely, the overlooked. And the promise is that when we do that, then we will begin to see the kingdom come in this world and in our lives, as it is in heaven. Thanks be to God!

In Christ,
Aaron